(This is Not an official site, the official site is at40.com)
Rick Dees Weekly Top 40
Rick Dees is a Los Angeles DJ who began his own weekly top 40 countdown in 1983. The "Weekly Top 40" is a mix of humor and chart information, and the show continues today. The show originally used the Cashbox charts, but switched to the Radio and Records Top 40/CHR chart. In 1994, ABC networks bought The Weekly Top 40 and decided to air that in the USA instead of American Top 40. At the beginning of 2000, Premiere Radio Networks became the owner of the show. Dees switched US syndicators in 2005.
Rick sometimes has specials instead of regular countdowns, e.g. a "Block Party All Request Special" or "The Hottest Hits of Summer Special". The show also has split into two versions, a Top 40 / Mainstream version and a Hot Adult Contemporary version. There is an official web site that shows the entire top 40 each week. In 2005, Dees began using his own chart not based on any magazine but based on affiliate airplay instead. Also, in 2005, the Hot AC version of the show expanded from a top 30 to a top 40.
---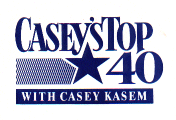 Casey's Top 40 / Casey's Hot 20 / Casey's Countdown
Westwood One lured Casey Kasem away from ABC Radio Networks in 1988 when Casey's contract with ABC expired. Casey along with Westwood One created a competitor to AT40, Casey's Top 40. Casey's Top 40 debuted on January 28, 1989, 4 months after Casey was last heard on AT40.
The format and features of Casey's Top 40 were very similar to AT40. For example, the "Long Distance Dedication" became "Request and Dedication". In fact, the jingles used for the show were deemed copyright infringement on AT40 in 1989, and the show had to change jingles. For example, Casey's Top 40 called itself "CT40". "CT40" was found to be too similar to "AT40".
Casey's Top 40 used the Radio and Records pop chart, an airplay chart. The 1st number one song was "Two Hearts" by Phil Collins, and the final number one was "My Heart Will Go on" by Celine Dion.
Along with the weekly show, there was "Casey's Biggest Hits". Each weekday, a former hit was played with a little story about it read by Casey. When the show was recorded on vinyl, this feature was separate from the main show. After the show went to cd's, these daily shows were on the same discs as the top 40.
Casey also had two adult contemporary versions of the show. Casey's Hot 20 was for Adult Top 40 (Hot AC) stations, and Casey's Countdown was for Adult Contemporary stations. All three shows were popular and continued until March 1998, when Casey brought AT40 back to life.
On to Miscellaneous Radio Shows

Use the Site Map
This page last updated November 20, 2005